MaryAnn French: Owner/Director
MaryAnn French has owned and operated Mary-Go-Round Learning Center for close to 30 years. Mary graduated from Keene State College with a Bachelor of Science degree in Elementary Education along with an Associate degree in Early Childhood education.  Since graduating college, she has taken workshops and educational seminars to keep up in the field of education. When Mary is not here at Mary-Go-Round, she enjoys spending time with her dogs, running and teaching fitness classes.
Jillian Godbout: Lead Teacher Creative Classroom
Jillian is married with three children and lives in Hooksett. She has been in the teaching field for 15 years. She has a B.S. in Counseling/psychology at a master's level. She has been with Mary-Go-Round since September 2015. When she is not at work, she is busy volunteering here in Hooksett, foster parent, scouts, coaching, PTA, etc.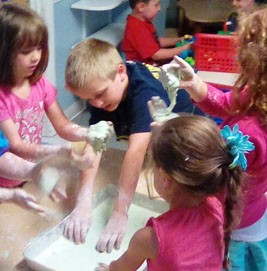 Mary-Go-Round Learning Center is a small Licensed Plus operation since 1989.